Partnership will leverage abundant existing and irreplicable telecommunications assets and building ownership's investments in infrastructure hardening to relaunch 75 Broad Street as a cost-effective New York City carrier hotel.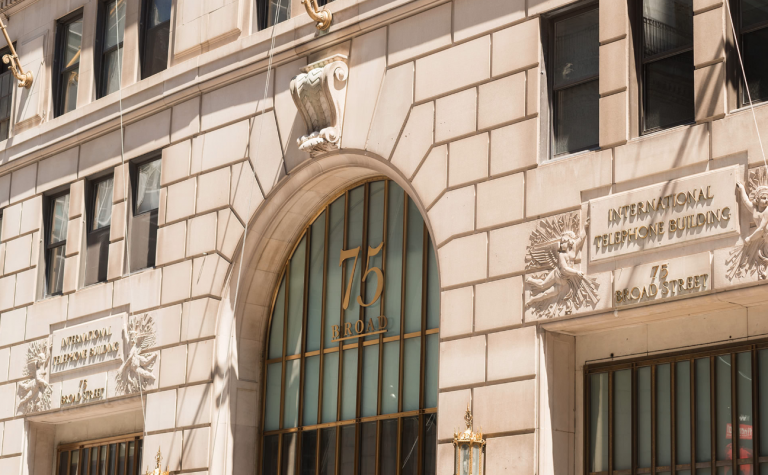 New York, NY – January 26, 2023 — JEMB Realty is excited to announce a strategic partnership with NYI focused on re-establishing 75 Broad Street as an interconnection hub. The partnership will help address the growing demand for interconnection and resilience in the New York City market. By offering a tenant friendly operating environment and leveraging the abundant existing telecom infrastructure, JEMB and NYI look to rebuild the carrier ecosystem and restore 75 Broad to its significant position in the city's interconnection landscape.
Situated in the heart of the Financial District, the iconic 75 Broad building boasts a rich telecommunications history. Built in 1928 as the headquarters for International Telephone & Telegraph (ITT), it served during World War II as a hub for communications with American submarines operating in the Atlantic Ocean. More recently, in the 2000s, the venue served as one of the original New York City carrier hotels, along with the former Western Union building at 60 Hudson Street, the AT&T Long Lines building at 32 Avenue of the Americas, and the old Port Authority warehouse at 111 Eighth Avenue.
Today, 75 Broad offers a vast and well-established portfolio of telecom assets with dozens of points of entry, an extensive conduit infrastructure and exceptional fiber connectivity from a multitude of fiber network providers. In the wake of Hurricane Sandy, building owner JEMB Realty has invested $15 million dollars to add redundancy and resiliency to the building's power infrastructure to ensure seamless continuity of operations. Likewise, southern Manhattan continues to benefit from hundreds of millions of dollars of municipal infrastructure investment.
"We've made significant capital improvements over the last decade and continue to offer unique value to telecommunications tenants," says Morris Jerome, Principal at JEMB Realty. "NYI, with their unique understanding of interconnection and New York City digital infrastructure, along with their integrity and commitment to excellence, is the optimal partner to help us leverage these valuable telecom assets to re-activate our carrier ecosystem as well as attract new carriers and enterprises to the building."
In a digital world in which lowering latency and increasing capacity has become essential across industries, connectivity is critical. Carriers will benefit from an additional NYC interconnection point to establish resilience and scale.
"Interconnection has become the core driver of growth for our industry in NYC and we're thrilled to help JEMB relaunch a building that has such historical relevance in the telecommunications space," adds Phillip Koblence, Co-Founder and COO of NYI. "Facilitating cost-effective interconnection is at the core of NYI's mission. Following our recent expansion at 60 Hudson Street and strategic partnership with Long Island Interconnect, 75 Broad will allow us to further deliver on our mission and enable carriers, cloud and content providers who rely on interconnection, whether it be subsea, terrestrial or wireless, to achieve greater scalability and resilience."
NYI will act as a strategic operating partner, managing the sales, business development, marketing, and customer success functions for digital infrastructure and interconnection activities at 75 Broad Street. Customers will benefit not only from NYI's extensive experience in facilitating custom interconnection solutions but also from gaining access to NYI's deep technical expertise and full suite of managed infrastructure services.
---

JEMB Realty Corporation is a three-generation strong, family-run, progressive real estate development, investment and management firm based in New York City. Long established in the industry for its entrepreneurial strength, drive and determination while ensuring a clear presence in a number of North American cities, the firm continues to seek out new innovative business challenges and investment opportunities across the continent.
To learn more about JEMB Realty, visit www.jembrealty.com
---

NYI is a global provider of hybrid infrastructure, network, and interconnection solutions. The company is known for cutting through the complexity of the IT landscape and facilitating custom solutions to address the critical infrastructure and connectivity needs of clients across industries. NYI is headquartered in New York City and provides enterprise services into key global markets through a trusted ecosystem of partners.
To learn more about NYI, visit nyi.net, contact 800.288.7387 or follow NYI on Twitter or LinkedIn.
Media contact: Iromie Weeramantry, marketing@nyi.net