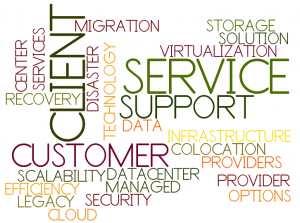 The demand for data centers is on the rise.  Proper execution of the necessary adjustments to meet that demand are important.  While some data centers lead the pack when it comes to innovative solutions, each is still a work in progress. With that in mind, here are several key trends we identified as far as what's currently IN and OUT for the data center industry this year.
Scalability is IN.In today's business environment, organizations are expected to grow quickly. This means their data centers must grow quickly, too.  Although scaling can be very costly, facilities designed to quickly adapt are better able to scale more efficiently so growth doesn't turn into a bad thing. NYI's infrastructure services are flexible and are tailored to what clients need –you pay for what you need now, but have scalability built-in so you are ready as your business changes.
Individual technologies are OUT.Organizations are looking to partner with managed services providers that are well-versed in bundled technologies.  Many need to drive greater levels of automation and have seamless integration with legacy infrastructure. Organizations can benefit from looking beyond the nuts and bolts of their individual technologies and instead focus on the big-picture benchmarks they need to achieve. NYI ensures that best in breed partners are a part of their solutions – ensuring they make sense and are also cost-effective for clients.
Virtualization is IN.Virtualization falls right in line with bundled technologies and can serve as a channel for revealing major IT benefits by taking diverse elements and creating a single entity that can be managed as a whole.  Data centers like NYI have created cloud models that allow for the pooling of resources, while balancing demand across different areas of an organization.  According to a recent DataCenterKnowledge.com article "As much as cloud is gaining momentum, FUD (fear, uncertainty, doubt) alone will prevent a seismic shift away from traditional data center services.  An optimized hybrid model of both is much more likely."  Learn more about NYI's unique Hybrid Cloud solutionhere.
Botched migrations are OUT.  For most organizations, the discontinuation of legacy services is a big deal.  With the added potential for business disruption, it's natural that many try to steer clear of it altogether.  However, in an age where technology moves at rapid rates, data centers must find effective methods for transitioning clients to new tools and services when old solutions become obsolete.  Here, NYI's Phil Koblence talks about NYI's proven method for successfully shutting down a legacy service.
Flash storage is IN. One of the best options for simplifying the data center exist in storage. Today, organizations place an increased emphasis on handling their information and data faster, especially those industries that rely on serving customers as efficiently as possible.  As a result, more data centers pre-embed flash storage into their servers to provide instant transactions and access.
Limited Support is OUT.  Client infrastructure operates 24 hours a day, 7 days a week, 365 days a year, and so does a good customer support system.  More and more data centers are moving away from the complicated procedures and formalities that are typical of larger providers. Data center staff should not only be technically capable, but should also be trained in authentic client service skills.  NYI firmly believes in personalized support.  We are not a one size fits all operation.  As owner/operators of our NY and NJ data centers, we have direct access to every facet of our facilities…and that makes us completely accountable to you.
A data center has a direct impact on a client's availability, efficiency, and potential recovery from outages and disasters. Regardless of the various data center trends for any given year, it is important for providers to remain aware of the changes in the market and actively work to protect clients when the modern applications of today turn into the outdated practices of tomorrow.