What are you going this week? If you're in the infrastructure business in the New York area, you will be joining NYI and more than 300 executives, analysts and industry-insiders at the second-annual Greater New York Data Center Summit & Expo on Wednesday, February 27 at the New York City Bar Association.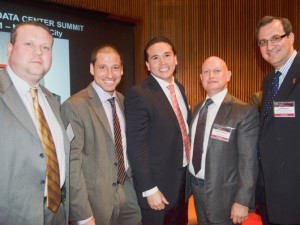 (NYI's Phillip Koblence second from left. Photo courtesy of CRE.)
Presented by CRE, the event's aim is "to bring together the most active and innovative firms for important discussion, debate and networking. 40+ speakers will participate in 10 provocative panel discussions, aimed at informing executives with the necessary market intelligence and networking opportunities for new business development in today's environment."
As presenters at the inaugural event in 2011, we can attest that that the Greater New York Data Center Summit & Expo is both money and time well-spent. But you don't have to take our word for it. See for yourself.