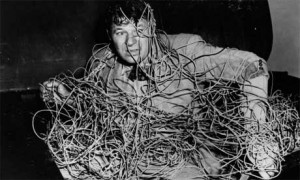 After days of false reports, it has finally been revealed that the cause of the recent GoDaddy outage wasn't a hack attack, but an internal failure. Is such a revelation a surprise? Here are three reasons why it shouldn't be:
1) Image Problems: The company that is synonymous with scantily clad women has reportedly been looking to class up its image, according to a report by the New York Times.
2) Poor Customer Support Reputation: Word-of-mouth makes a big difference. Along with their reputation for outrageous commercials, GoDaddy has a reputation for less-than-stellar customer support.
3) Leadership Issues: GoDaddy CEO Bob Parsons set off a wave of protest when he posted a video last year of himself killing an elephant. Without getting into a discussion of ethics, one has to wonder about the man's judgement. Are these the folks you want hosting your critical infrastructure?
The bottom line here is that bigger doesn't mean better. While many people love the convenience of setting up their website in a few clicks, people who know better understand that working with smaller hosting firms who are truly invested in the success of your business are the far better choice.