Whether renting or buying, striking out on your own for the first time is one of the top ten most important milestones in your life, and – believe it or not – the same proves true for your business. Well, your business' data at least. There comes a time in every business decision-maker's life when they are faced with the age-old question: should we rent or should we buy?
Believe us, we know that choice can be daunting with so many considerations: cost, performance, security – the list goes on. Not to mention the options from standard colocation to hybrid cloud. So, if there is no one-size-fits-all approach how do you decide what's best for your business and its precious data?
That's where we come in. Let's break down the options into four buckets and examine how they measure up not only to one another, but to your needs.

Public cloud refers to a large pool of shared resources that can be provisioned as needed using software/APIs. Think AWS, Google Compute, Azure and Digital Ocean. These resources are easily obtained and deployed, but tend to create runaway costs for consistently used workloads. This results in a "tipping point" where the costs outweigh the benefit.
Think of this like a hotel, which is a great option for someone requiring a small space for a short amount of time. However, we all know that the cost of staying in a hotel can quickly skyrocket as you begin to spend more and more time there and/or take up more and more space.
The Good: The initial deployment for public cloud is simple and it has proven an effective and reliable option for disaster recovery, bursting, and R&D
The Bad: Public cloud is not cost effective for high processing, memory, or disk I/O requirements. It's also not ideal for those who are bound by stringent security/compliance standards or those who seek support.

Next, we have the private cloud. This model offers a larger footprint for computing, network and storage with segmented resource allocation. To keep it simple, the private cloud is what a leased apartment is to the world of real estate. It provides more space to call your own and at a rate that is affordable over the long term, without the all responsibility for the underlying infrastructure.
The Good: Having infrastructure associated with consistent workloads results in cost-effectiveness that is hard to argue with. Private cloud enables predictable pricing and increased control over performance, with the ability to quickly add additional resources as needed. The level of control gained via private clouds allows users to meet more stringent security and compliance standards.
The Bad: Whenever anyone talks about something "as-a-Service" (in this case IaaS) red flags tend to go up. The downfall being, there is a "cloudy" element to this model that can get expensive and inefficient for those with applications requiring very high CPU, PROC, disk space and I/O.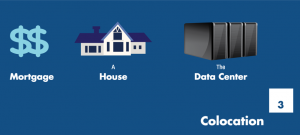 Tired of someone else owning the assets that you're using daily? Well here comes the house with the mortgage or in this case, colocation and bare metal solutions. In this model you gain maximum control by claiming a physical space within a data center and deploying actual hardware.
Did we just hear you gasp? If so, you're not alone. A lot of people fear this model when in reality there is nothing to fear. Both the public and private clouds already reside in the data center, and with NYI, you are able to gain maximum control over price, performance and security through colocation. Or what we like to call "the jackpot".
The Good: Colocation eliminates the costs associated with building and maintaining equipment, resulting in savings. Greater access to space and power maximize your disaster recovery options and security as a whole. Colocation enables the flexibility to add additional capacity if and when it is needed, cost effectively and quickly. Finally, and most importantly, don't you want to get back to focusing on what you do best? This model leaves the IT to the experts and lets you get back to putting your company's core competencies front and center.
The Bad: Colocation and bare metal have the longest potential timeline and can pose infrastructure management headaches. You also might be classified as a "server hugger" by your peers (a badge some of us wear with honor).
But wait, there's more!
Maybe you have multiple needs that require multiple solutions. Know anyone who has a mortgage on their permanent residence, as well as a vacation rental or timeshare for when they want to get away? This is what we call a hybrid approach. It enables two specific and unique needs to be fulfilled in a cost effective and logical manner.
Think of Hybrid Cloud the same way. The blend of public cloud, private cloud and colocation/bare metal enables companies to balance control, agility and security once they reach the cloud "tipping" point. Between tight schedules that require quick deployment, multiple moving parts with limited human "bandwidth" and the need to balance budgeting constraints, companies need real assistance more than ever in order to achieve an effective balance.
Are you in search of some guidance while navigating the cloud and colocation landscape? If so, email salesteam@nyi.net today to see how we can fit your business' needs. Go ahead, challenge us.