Last week, NYI welcomed New Jersey's hottest IT, Telecom and Mobile startups as part of New Jersey Tech Council's sixth-annual Innovation Competition.
The event took place Thursday, Oct. 4 at NYI Bridgewater, NYI's 40,000 square foot facility in Bridgewater, New Jersey, approximately 40 miles from New York City. As in previous years, the event attracted a healthy mix of venture capitalists, technologists, analysts and entrepreneurs.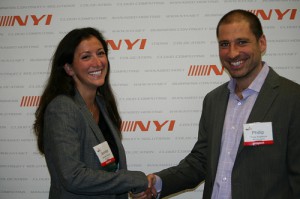 Event moderator Jennifer Peruffo, Assurance Senior Manager, BDO, welcomes Phillip Koblence, VP Operations, NYI

The companies honored represented a broad cross-section of the tech universe:
Network / Infrastructure Services
Mobile / Social Entrepreneurship
Inspirity
Rant Network
YouGiveGoods
Software / Middleware
ATC Labs
FieldView Solutions
paSafeShare
"We are proud to be at the center of such innovation," said Phillip Koblence, VP Operations, NYI. "We have forged a special relationship with the New York Area tech startup community, having fostered so many early-stage companies over the rough spots along the path to excellence. It's is for that reason that it is our pleasure to host this event for the fourth straight year, where we salute innovation and celebrate tomorrow's leaders."
The Star Ledger weighed in on the event. NJTechWeekly was also on the scene. For those of you who couldn't make the event, we have uploaded an entire gallery of images for your viewing enjoyment.
NYI Bridgewater has become a beacon of the tech industry in Central New Jersey since opening its doors in 2009. In addition to providing customized infrastructure solutions for companies in the tri-state area and beyond, it has fostered a strong community among New Jersey's technology community, centered around the 287 corridor. NYI Bridgewater is a regular meeting point for OWASP's New Jersey chapter and other tech user-groups, as well as an annual gathering place for NJTC Innovation Competition.
Of course, you don't have to take our word for it. You can see for yourself via a virtual tour or you can schedule a in-person tour with one of our engineers.