This July 4th, NYI Celebrates a New Freedom
This year, the Fourth of July brings something different. Sure, there will be hotdogs, hamburgers, fireworks and all the usual things we associate with the birthday of this great nation. At NYI, though, we will also welcome a new kind of freedom, a freedom unlike any you've experienced before.
What's the secret? Well, let's just say that we haven't been around since 1996 by playing it safe. Or forgetting that our customers are the most important part of our business.
Read on for the big reveal!
NYI Customer of the Month
Our July Customer of the Month is Mark Hellbusch, Director of IT Operations for ClickBank.
ClickBank, a global network that leverages the information business model to help tens of thousands of people gain more financial control and freedom by turning their knowledge, passions, hobbies and work experiences into an additional source of income, has increased its infrastructure footprint at NYI.
Mark and his team are anchor tenants of 999 Bridgewater. Here's what Mark had to say about the experience:
"As one of the first tenants at their New Jersey facility, I am happy to report that all the efficiencies that NYI promised have not only come true, they have helped our business immeasurably, With the upgrade, we look forward to continued growth for all of our vendors and partners."
My, You Look Great in Camo
We'd like to thank everyone who made it out to the 2nd annual NYI Paintball Palooza, which was held on Saturday, June 1. For those of you who couldn't make it, you missed a great time. For the rest of you, we've got those photos you've been asking about.
What's New in the Infrastructure Industry?
HostingCon, the infrastructure business' annual major tradeshow, wrapped up recently. Our friends at Data Center Knowledge have a great recap.
(Short version: There are exciting things happening. The industry continues a strong growth pattern, with opportunities for those who continue to evolve. And we're not talking about the US government, either, whose datacenter count has reportedly doubled since 2011.)
Say Hello to Mark
Mark Ward has been named NYI's Director of Business Development. Ward, a UK native, brings 9+ years of experience to the position as well as a global customer portfolio.
Prior to NYI, Ward was Business Development Manager at Tata Communications. He has also been Business Development Manager at PacketExchange, a leading provider of private network services with Internet economics. Want to introduce yourself? Mark can be reached at mark.ward@nyi.net.
Gartner, Ernst & Young on Cloud
Gartner Group and Ernst & Young weigh in in Network World and Forbes on Cloud computing. As folks who have been following the move toward virtualization the past few years, we have to say that these are the best pieces we've seen so far.
What do we like about them? The simple answer is that they show the greatest regard for customers. Hybrid isn't a buzzword. It's a commitment to a balanced, quality approach that is both secure and flexible.
A New Freedom
NYI, a company that helped define infrastructure services, is about to do it again with the launch of NYI Cloud, a true, comprehensive enterprise-class Hybrid Cloud solution that you are not going to get from Amazon, Rackspace or any of the big providers.
Need to do some testing? Interested in optical storage or want to scale automatically when usage spikes? NYI Cloud is a great solution for non-critical assets and optimizing on-premise efficiency and cost-effectiveness.
How do we do it? The solution is powered by an interconnected VMware vCloud that functions as if on-premise and virtualized applications are running locally. Also, because of the facilities component,your IT infrastructure is secure and meets the highest compliance standards of SSAE 16, SOC 1 and 2 Type II, PCI and HIPAA.
While other providers have rushed the market with me-too Cloud services, we have waited until there was a true Hybrid solution that frees us and frees you with a whole new class of offerings that are totally unique because they cannot be replicated by any other mass-market provider.
Think we're kidding? NYI's Phillip Koblence weighed in recently in his column at TheWHIR. It is both a manifesto and Declaration of Independence from Cloud-business-as-usual.
NYI Cloud is live and ready to be deployed. Best of all, we are offering a free trial. Want to find out more? Drop us a line at salesteam@nyi.net.
One Last Surprise
So just in case there hasn't been enough surprises in this newsletter, we have one more for you. Late in 2012, on the same night that NYI accepted its award from NJ BIZ as "Emerging Business of the Year," Phillip Koblence welcomed Oliver Koblence into the world. Don't worry, we won't be turning him loose on the datacenter anytime soon, but with his NYI onesie, he is helping out with the marketing.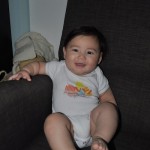 Thank you, as always, for taking the time to read the newsletter. If you have any suggestions, you know where to reach us (Hint: look below!).  Happy July 4th!
Kind regards,
Phil & the NYI Team