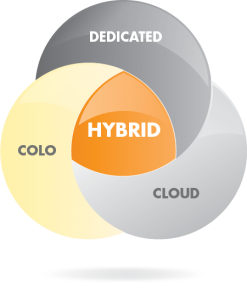 We all know how much cloud computing has evolved in the past few years, and can likely recall when the concept of the 'hybrid cloud' was first introduced in 2008. At the time, hybrid cloud experienced a backlash by cloud computing "traditionalists." According to them, private clouds were ridiculous and just fancy names for a data center, and to combine private clouds with traditional computing platforms (aka the public cloud) was thought to be a most impractical idea. What was the point? Did it defeat the purpose of the concept of the cloud, which was to serve as a virtual server on shared, open hosting infrastructure able to quickly or automatically scale according to workload?
Not quite. Fast forward to end of 2014. As cloud computing solutions and business NEEDS have evolved, the hybrid cloud, an environment that utilizes both private and public cloud services, allows companies more choices on the types of cloud services they need in order to meet growing customer demands.  Nowadays, most organizations utilize a combination of private computing resources (data centers and private clouds) and public services, where some of the services existing in these environments touch each other — and this is known as the hybrid cloud environment. The hybrid cloud is growing, and fast. (Read NYI's NYI – Making the Case for Hybrid)
Simply put, hybrid clouds offer:
Flexibility and scalability of a public cloud
Customizability and security of a private cloud
Power of choice, allowing companies to explore the cloud solutions that make most sense for their business practices
Ability and ample time to 'test out' the several cloud features before fully committing
The hybrid cloud also allows companies to dictate the pace at which they want to adopt the benefits of cloud computing.  Adoption in this manner (slow) is actually better for workers in the long run too, as it can make cloud applications more familiar given the gradual pace.
Explore Hybrid Cloud with Us
With NYI you can customize combinations of colocation, dedicated hosting and cloud to gain more flexibility and cost efficiency. Learn more.